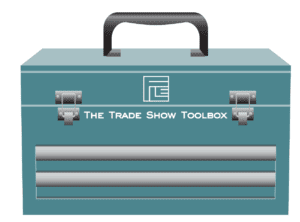 You're waiting in line at Busch Gardens when staff announce that they're shutting down the roller coaster temporarily. You refuse to leave the line, because you've already spent an hour waiting.
You spent way too much on a designer cocktail dress for your cousin's wedding back in 2008. Even though you know you'll never wear it again, you can't bear to give it away.
Your trade show display is looking a little tired, but you want to use it for a few more seasons. After all, it cost a lot to have it custom-built for the company — seven years ago.
These are all examples of sunk cost fallacy: the habit of considering past, irrecoverable costs when you're trying to make decisions for the future. It's an emotional habit, not a logical one, but it's tough to fight. We see it all the time when clients are weighing the pros and cons of replacing their trade show booth. Here are three signs it's definitely time for a new trade show display.
1. To stay competitive, you need to upgrade to a digital trade show display.
If your booth is still built around literature stands and business-card holders, it's time to consider a digital trade show display. In most industries, companies are shifting their focus away from paper brochures, simply because most people discard them. Instead, marketers are grabbing contact info on iPads, handing out USB drives with company info and displaying live event Twitter feeds.
Upgrading doesn't mean you have to spend thousands on a free-standing digital display. Monitors have become dramatically lighter in recent years, so you can get a 40"-50" flatscreen that weighs under 20 pounds and can be mounted easily on a standard booth frame.
2. Your trade show booth is feeling a little cramped. 
Sometime, an old booth just isn't keeping up with your company's growth. If space has been tight at recent trade shows, with too many people crowding in, it's time to consider a larger booth. Or, if you've noticed that your competitors' displays are overshadowing yours, that's another compelling reason to increase your presence. It's not as expensive as you think to upgrade from a 10'x10' display to a 10'x20', doubling the impact at your next show.
 Your trade show booth just looks old. 
Before leaving for your next trade show, really scrutinize your display. If the photography's cheesy or the branding's outdated, if the seams are stretched or the fabric is faded, then it's time for a new display. Remember that to trade show attendees, your booth is your brand — so it's never okay to show them something that's broken, dingy or dated.
The good news is that even if your budget is modest, you can get a display that dazzles. New, lightweight display options have a custom look, but are easy to set up and really cheap to ship. Talk to us about developing a new display in time for your next show.