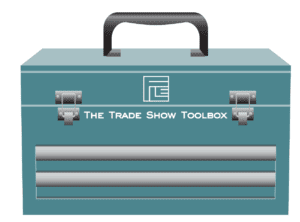 In this space, we've talked about how to be memorable at a trade show (without hiring mimes or handing out super-expensive swag). One effective way to do it is to add thoughtful accent pieces to your booth. It's kind of like furnishing a house — you may already have the walls and the furniture, but what about the lighting, the carpet and the décor? Each of these elements can help your trade show booth attract attendees.
Booth accent: Flooring
Flooring is probably the most frequently overlooked aspect of trade show booth design, but it can be one of the most effective. Options include interlocking tiles, vinyl, hardwood and turf. Carpets can even be custom-printed and integrated into your backwall design for a seamless, three-dimensional experience.
Not only does flooring give your trade show booth a polished look, it serves as a subconscious invitation to linger. Footsore attendees, especially those in high heels, appreciate the cushioned surface.
Booth accent: Monitors/tablets
People are drawn to screens. A lightweight, mounted monitor or an iPad on a stand adds visual interest to your trade show booth. You don't need to invest in a professional commercial or product demo, either; even a looping series of product info and photos can help engage attendees. Here are some examples of sleek fabric iPad stands and multimedia kiosks that we really like.
Booth accent: Upgraded lights
LED spotlights and backlights add tremendous eye appeal to your trade show booth, and are a nice contrast to the dull, overhead fluorescent lights of exhibit halls. Some options would be slender LED spotlights on flexible arms; stylish metal lights and even colorful RGB accent lights.
Booth accent: Tabletop banner stands
Instead of cheap, clear plastic sign holders, present your message in a professional-looking way. We like the Breeze 1 Retractable Banner Stand, which is small but also sleek and sturdy. Tabletop banners are an effective way to draw attention to a specific offer or highlight a single product.