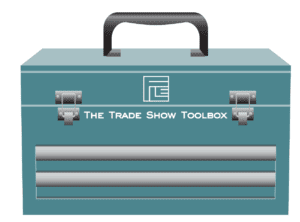 Every company at a trade show wants your attention RIGHT NOW. They court attendees with aggressively friendly sales staff, piles of swag and ever more elaborate trade show displays. But a week after the show ends, most of these exhibitors have faded from memory. Only a few remain.
Clients often ask us, "What's the secret to being one of the few companies attendees remember long after the show is over?" Here's what we say.
Size is your friend. 
If the show you're attending is the single most important event of the year, go all out. Invest in a large island space — 20 x 20, 50 x 50 or even 100 x 100, depending on the venue and the size of the show.
Watch your competitors closely.
Unlike in financial investments, past performance is a good predictor of future results. Look at the schematics of last year's show. If your biggest competitor outshone everyone else, they'll try to do it again this year. That means you should try to match their efforts, as far as your budget and imagination permit. You really don't want to look small next to your competition, because then you look small to your customers, too.
 Zig when others zag. 
Marketers expend a lot of energy chasing the latest trends in trade show exhibit design. Is everyone shifting to a lounge-style trade show booth? Is industrial-chic over? What's next? We applaud innovation, but simply being on-trend doesn't make you memorable. The opposite can be true, in fact.
We really like this retrospective of memorable trade show exhibits, assembled by Exhibitor magazine. Some date to the 1970s and '80s, but the best examples of booth design are unique and timeless: a model roller-skating in a revolving wheel to demonstrate floor durability, a chandelier made of 1,174 oranges, a Zen garden attendees can rake and rearrange.
Make your booth a tactile experience. 
People remember things they do more than things they see. Is there a fun way you can invite prospects to participate in your booth? Can they taste, compete, play or experiment? You want to create an experience that sticks in their minds. And you don't want the experience to be, "Hi. Buy my product."
Be memorable — but also meaningful. 
Here at FrontLine Exhibits, we advise our clients to take ad agencies' recommendations with a grain of salt. Maybe a whole shaker. The creative minds at ad agencies will try to make your booth stand out at any cost, but sometimes they try too hard. If they suggest you hire mimes or fire-breathers, ask yourself: Is this really relevant to your brand?