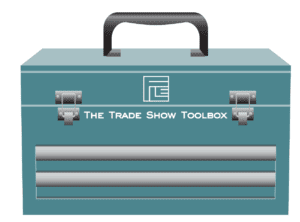 Here's a secret trade show exhibit companies don't want you to know:  A lot of them are order takers.
What does that mean? Their goal is to get the trade show booth design process over as quickly as possible, without thinking too hard. So they "work out of the book." They recommend a suite of products made by a single manufacturer, so they can order all the pieces of your trade show exhibit at once. Backwall, counter, lightboxes, done.
There's one problem with the order-taking approach. Your trade show booth design can end up looking exactly like everyone else's. It says as much about your company as your lunch sandwich says about you.
At FrontLine Exhibits, we take a different approach. We believe your trade show booth design should be thoughtfully crafted to match your company's brand, even if that means including unique elements that are hard to find. We maintain relationships with a wide array of vendors so that we can negotiate deals on all kinds of different products.
For example, one client asked for custom interactive flooring, the kind that has a digital interactive program that responds when someone steps on it. We found a supplier. Another client was attends a hospitality show, where they want to avoid the "trade-showy" look and create a comfortable and eye-catching space. We work with them to reinvent their space annually focusing on comfort, quality and professionalism and try to avoid stock trade show items.
Of course, you don't want to add custom booth elements just for the sake of being different. We can help you figure out if a proposed design fits both your company's image and the feeling of the trade show you're planning to attend.
Picnic tables? Custom cabinetry? A neon sign? We can do it. That's what customer service means to us: We want to understand your project and make your vision happen. We almost always say yes, even when others say no.