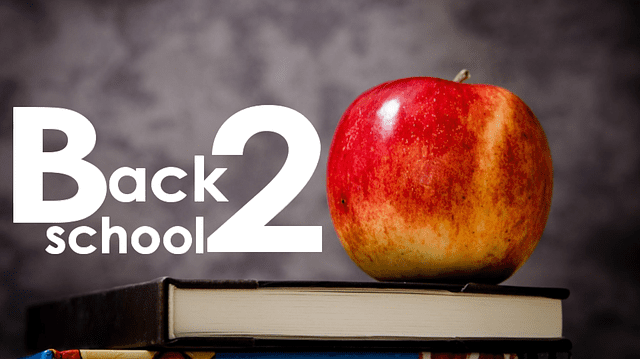 Being in this industry this long it has not been hard to see that the trade show calendar largely mimics the school year. Major peaks in the volume of shows in the spring and fall, and dips/time to reset in the summer and winter. Many aren't interested in entering into complex, multi-week projects around their winter holiday or summer vacation period. I don't blame them! So realizing we're coming off of the summer period and entering into back to school, how can we learn from our back to school experience (be it our own or our kids')?
New Fresh Outfit and Supplies
Going back to school we wanted to be energetic and new with an outfit that reflects our current self and not grades past. Accompanied by new notebooks and fresh pens/pencils that haven't already been word down, and are ready for months of use.
Heading into the first show or run of shows since the spring can be used in a similar fashion. Maybe a new booth design altogether, a new product focus, rebrand or something that makes this a different experience. Like school supplies, any hardware should be  fixed up or replaced to be ready for the upcoming wear and tear.
Prepare Mentally
Summer allows students time to think about things other than their classes. To put behind the subjects finished, and clear their minds for the upcoming course load.
Hopefully there is some down time, at least a break from trade show related work at some point during the year. The mental state is totally different in the middle of a 10 week straight run of shows, and being several weeks removed. Just like school, finish processing that stretch, clear your mind and get ready for another potentially exhausting trade show schedule.
New Teachers, New Classmates
Faces change year to year in school; the ones teaching the class, the ones around you in class and even some of the ones you cling to. Nothing bad, just different.
On the show floor, your show could have a new decorator or a new venue. The competitors and friends from past shows may be entirely different. Expect change and allow time and resources to react to the difference(s). For example, a New York City show could cost almost double that of Orlando!
Grades
Students know that their performance will be measured, and learn how it will be measured up front. In today's world of standardized tests, the whole grade has overarching criteria.
Trade show managers should determine their goals, both large and small, for their campaigns and develop ways to measure against them. The scores and grades (whatever metrics are decided) can keep them accountable to their overall trade show plan and working most effectively.
Our clients are wide ranging with their show schedules. Some clients exhibit at one show a year, while other clients exhibit almost every weekend of the year. Utilize whatever downtime there is to consider how the campaign will grow, get smarter and become more efficient moving forward. Don't allow the booth to get stuck in one grade when it should be moving onto the next!