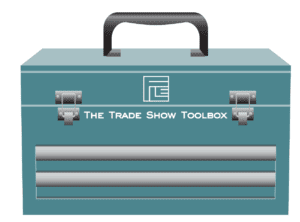 When should your trade show marketing begin?
Not a week before. Not three weeks before.
Two months before the show. That's when savvy marketers begin reaching out to prospects to lay the groundwork. The goal, explains Chase Howells, FrontLine Exhibits' Senior Account Manager, is to "try to win people before they ever hit the floor." Attendees have a list of must-see companies and people, and here's how you can get onto that list.
Two-plus months before the show, you should…
Reach out via direct mail to a slew of prospects. Tell them you'll be there and invite them to connect. If you're targeting a few, large, prospects send a box so that it will definitely get into their hands.
Purchase a trade show sponsorship, if that fits your business goals. Sponsorships are expensive, yes, but if it's your biggest show, the investment makes sense. "You'll be everywhere," Chase says, "and that's what you're paying for. It just makes you feel bigger to people, and there's value in that."
Six weeks before the show, you should…
Purchase advertising outside the show venue for the time period around the show. If you really want to make sure people remember your brand, consider purchasing billboard space, outdoor advertising, or taxicab ads in the area. Check lead times first, to make sure your message can be timed correctly.
Launch a personalized email campaign. Don't flood your prospects with emails, but sending a few can build excitement for the show and ensure you get added to your prospects' lists.
Three to four weeks before the show, you should…
Set up appointments to meet with high-value prospects. Forbes contributor Ken Krogue suggests choosing very specific times, such as 10:35 a.m. "People don't forget appointments at unique or weird times," he says. And if they do? Follow up immediately and reschedule. Don't forget to tell them how to find you!
Invite high-value prospects to any social hours or private events you're hosting.
Start hyping the event on social media.
Just before the show, you should…
Call prospects directly to arrange or confirm a meeting.
Place small gifts or messages in prospects' hotel rooms to remind them to come and see you.