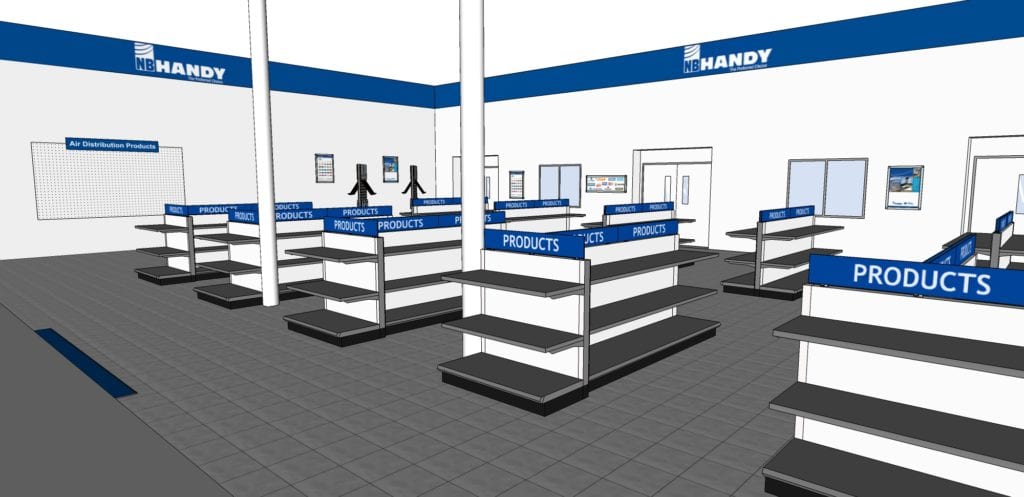 Over my six years with FrontLine Exhibits one of the areas we've looked to expand and develop has been retail and showroom design. The demand for us to entertain this segment derived from our clients who wanted to have us utilize some of the same core competencies we've shared success with on the trade show/event side into their other customer facing environments. Now we have a portfolio of designs for office entries, corporate showrooms, and retail spaces utilizing products like touchscreens, gondola shelving, wall graphics, window graphics, custom wood displays and custom product merchandising displays. All offered in a complete package starting from design conception through final installation. A lot of the people that come to us though, come with these projects as something added on to their usual workload, or just beginning this process for their company. In other words, they're leaning on our experience to help them achieve success. Here is what that process looks like:
Help Us Understand the Scope of the Project
With our current product offering and labor partners, we support projects as small as window decals and as large as multi-state store roll-outs. Give us an idea of your current and future needs in this area. If we're looking to go beyond one location we'll try to design a scalable concept that allows for expansion and contraction of the space. We'll also look for economies on the displays and items used inside the store. For instance, a one off custom wood display is significantly more expensive than producing 15 at once that we can use over the course of a roll-out.
Also, make sure to let us know the permanence of the project. Though we always want to allow for some flexibility as products and branding can change, some projects are designed to last 20 years where others may only need to be a one month product launch. Knowing this will change the types of materials used and the way we go about the install.
Who is your company?
This is an exercise we like to go through for any of our projects, and retail spaces are no different. We want to know your brand identity so we can pass that along to your customers in the space. Are we using wood or chrome? Is the staff in suits or jeans? Who is your target demo and what types of things do they like? Maybe we incorporate a wine bar or a coffee station. One thing we like to see as well is what your competitors' spaces look like and what you feel is right or wrong about what they're doing. Knowing you, your competition and your clientele will help bring the space to life.
Starting Points
Usually when clients reach out to us, they have a specific project in mind that needs relatively quick attention. Maybe this is that first store out of a future run of more. Let us know the specifics on this location. Space dimensions, open-date, availability for installation (if remodeling, do we need off-hours install?) and existing timeline (ex. electrical will be installed by June 10). Lastly, but most importantly, your team's vision for the space. What are the must-haves, what are the wants, what is the budget, what current designs (stores or even just specific displays) are inspiring your team? The more we know up front, the quicker we can operate.
The Process
The complexity of these projects require them to have more of a process to first budget, then further detail. We will start with gathering the information above and beginning design concepts. Generally, we will do a site visit to measure, take photos and discuss specifics with your team. Next, will will begin detailing the design and offering loose budgets. Now we can fully detail our design, offer a more accurate budget and plan the installation. Allow 8-12 weeks as a rule of thumb for a project from design through installation. Lead times on custom shelving and product displays is generally around eight weeks.
Hopefully this is helpful in providing you background on the process and expectations for these projects. If any customer-facing projects beyond the walls of the convention hall falls onto your plate, contact the FrontLine team and we'd love to help!