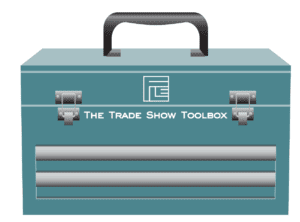 Get 'em in. Get 'em out.
That's the approach that many trade show booths take. They try to attract as many show attendees as possible with a drink or free swag, then move them along. But is that strategy working for you?
Recently, we've had multiple clients redesign their trade show booths to get rid of the wet bar and add a lounge area. They figured out that they could have more meaningful encounters with prospects by inviting them to linger, instead of plying them with drinks.
It's easy to add a lounge to your trade show booth, for minimal cost. Rent comfortable furniture, such as a few sofas or upholstered chairs arranged around coffee tables. Don't forget the lighting, which can create a warm and inviting feel. Set up easily accessible charging stations, and you're ready to go. The goal is to create a space that draws in weary show attendees and provides an opportunity for a low-pressure sales conversation. But this approach isn't for everyone. First, ask yourself these questions.
 1. Who's your audience? 
We always say there's no one-size-fits-all solution for trade show booth design. You have to know your target audience, then adapt the booth for them. For example, if you're attending a trade show for the travel or foodservice industries, then hospitality is the name of the game. Your space should be welcoming and inviting, and a lounge design can be a good fit.
 2. What are your trade show goals?
If you want people to linger so that you can strike up conversations, a lounge-style trade show booth design works well. But if you need to funnel hundreds a day through your booth, you don't want people sitting around — attendees or salespeople. You need all hands on deck. Or, if your primary goal is to woo a select handful of prospects, a private meeting room or cocktail hour might be a better option.
3. What type of lounge looks like your brand?
"Lounge" doesn't have to mean big, cushy couches. In fact, many attendees prefer a counter with bar stools, where they can linger and charge their devices but can also make a quick getaway, if needed. Your lounge can resemble a living room, a lobby, a café or a club — whatever best fits your brand.
Curious to see how a lounge could fit into your trade show booth? Just give us a call, and we'll talk about the options.