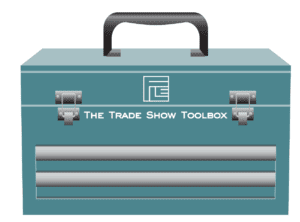 There are a ton of trade show blogs out there that focus on the sales-pitch side of the trade show experience. They talk about every aspect of selling: how to generate quality leads, how to turn "no" into "yes," even what kind of candy to offer at your booth.
But at FrontLine Exhibits, our job is not making the pitch. You and your trade show team already know how to sell your product. Our mission is simple: to set you up to succeed. We ensure you're 100 percent ready to make a big impression at your next event. While other exhibitors are showing up with outdated graphics, struggling to set up their booths, and blending into the sea of same, our clients are commanding attention with customized, cutting-edge displays.
That's why we're introducing the Trade Show Toolbox. In this space, we're going to tell you everything we know about the nuts and bolts of trade-show exhibitions. Whether you're a first-time exhibitor or a trade-show veteran, you'll find useful, actionable tips to help you reduce your trade show costs, manage the creative concepting process, and deal with trade-show emergencies. Subscribe to our mailing list (fill out the form to the left) to get the best posts delivered to your inbox.
In the meantime, here are five of our favorite recent posts from our long-running series, Diary of a Young Marketer: