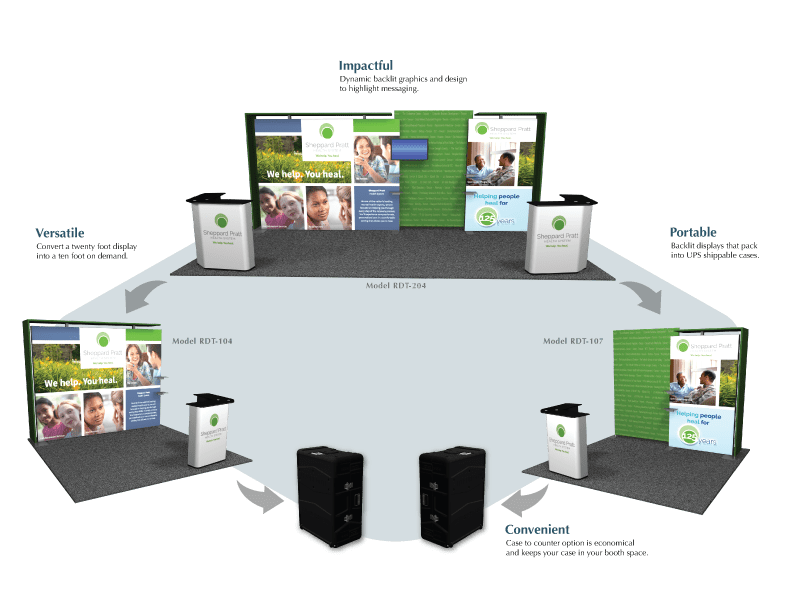 Trade show displays generally are not cheap, especially the larger they get. So one of the biggest demands we have from our clients is either how to re-purpose an existing exhibit or when building something new, make sure it is a product with room to grow. Manufacturers in the space have heard this request, and modular products are continuing to roll out. Whether you're looking to expand to a larger footprint in the future, or just need something bigger for a show or two a year, here are some options to consider:
Modular Locking Frame Systems
These have taken over the industry the past few years, and have become extremely common for island displays. Replacing the wood panels of old, with preassembled aluminum frames that quickly lock together. These have become the building blocks of exhibit world, and offer a number of benefits such as install time, accessories and reuse. Graphics can be fabric, rigid panel, or a combination; single or double-sided. You can add backlighting, overhanging lights, monitors, locking doors or even inset LED video panels to bring full-motion into the wall.
In terms of modularity and reuse, they can be arranged as a simple 10×10 or 10×20 and then either included in or reskinned (new graphics) for a larger space.
See sample below of different frame sizes, backlighting and inset LED video screens.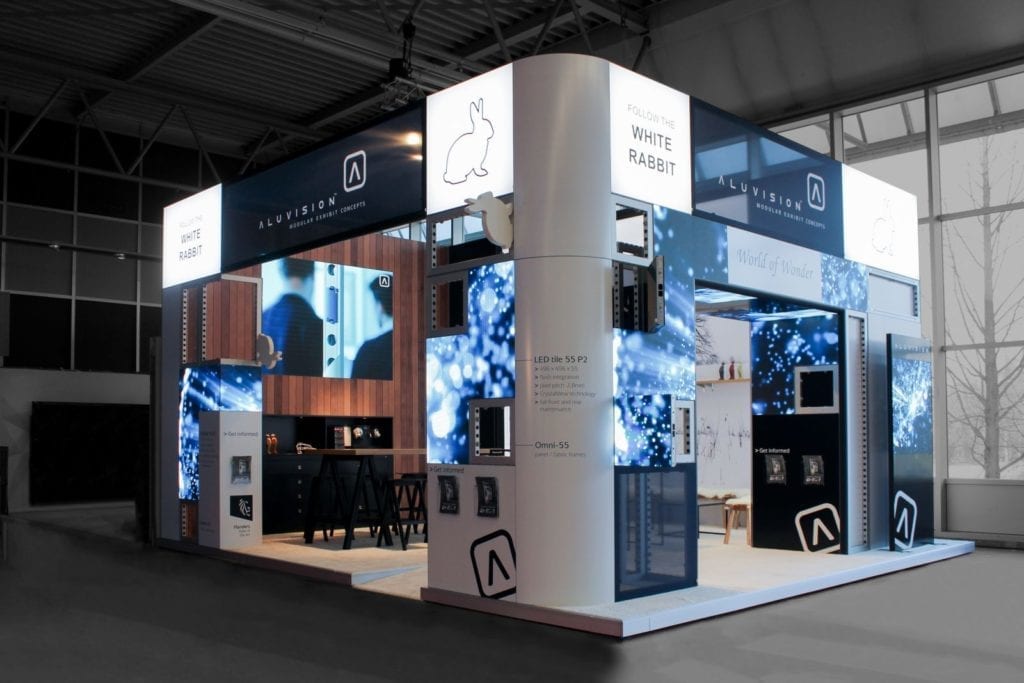 Featherlite Medallion
We've mentioned this product a number of times before because it so frequently answers the needs of our clients, and modularity is one of those. With different frame sizes and designs, you can simply hook the frames into multi-pronged base to extend as wide as necessary. When you are moving out of the linear booth space to an island, the product line offers storage closets, towers and other familiar island items to the display frames you're already using. If you're only moving up in size for a show or two, you can rent the additional components for the larger space size as needed.
Linear Spaces
Almost all major product lines for linear spaces offer 10×10 displays that have an accompanying 10×20 design. Both previously mentioned options can do this, but some that really work well are the Featherlite Radiant backlit line and Classic's Modern Inlines. If you're planning to be in both 10×10 and 10x20s these will give you great presence and flexibility.
Rentals
When designing your new exhibit, see if the product line can be rented. This allows you to extend the structure of the display you already have for less money as well as add accessories and additional components that match aesthetically.
Regardless of the way you go, if there's a chance you'll need a different size trade show exhibit at some point then make sure you discuss the need for a modular option up front with your exhibit designer. This ensures that no displays get wasted, and all dollars can be focused on building something even greater.