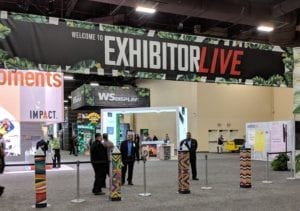 Several weeks ago I attended EXHIBITORLIVE 2018 at the Mandalay Bay in Las Vegas. For those that don't know, this is the trade show for trade shows. The exhibitors are comprised of companies that supply products and services for the trade show industry, and the show is attended by representatives of companies like ours looking for vendors to partner with and end users like our clients. All of us looking to see what is cool and new in the industry. Here are six of my favorite products from the show this year:
Tactile AR
Exhibitry rolled out a number of amazing products this year, but the highlight in my opinion was their Tactile AR product. This augmented reality product allows exhibitors to utilize their smartphones/tablets to give 3D product demonstrations, location tours and service explanations. This is an engaging way to be able to drill down on details that are better seen and explored by the attendee than described by word of mouth. Here's a sample video of us looking through an HVAC condenser:
Find additional information about this product: HERE
Trade Show Battery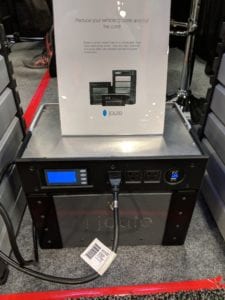 Many times we have been asked for battery powered lights and battery powered alternatives from our clients looking to avoid the hefty electrical charges from the shows they attend. Joule has now provided a lithium ion portable battery designed to give exhibitors this freedom. It is scalable for the amount of power required, rechargeable and able to travel around with the other booth properties.
The option shown to the right shows a battery with enough juice to power a monitor and lights for a 10×10 for a full day.
Jumbo Smartphone Displays
Multiple A/V rental companies rolled out large smartphone displays that allowed complete scaled app functionality, even use of the camera, to function exactly like a smartphone. Have an app to show off? Want to use a game for engagement? Who isn't addicted to their phone? It can make this an attendee magnet for you.
Shown as both a wall mounted and freestanding option:
Printed Flooring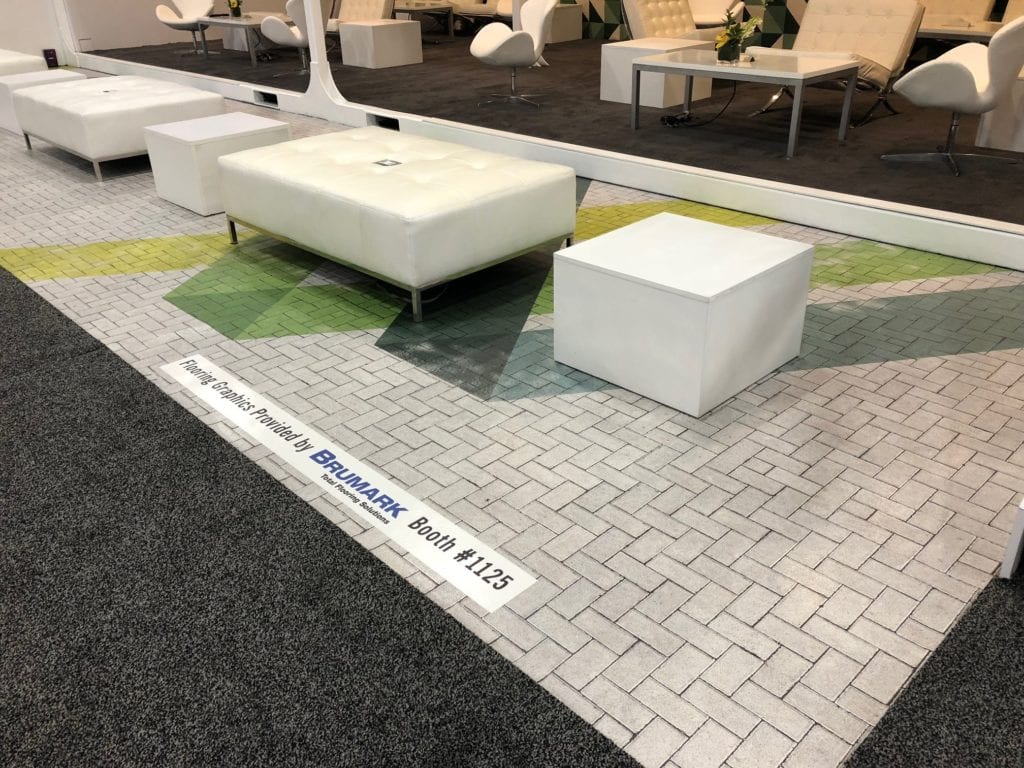 I know what you're thinking, printed flooring is nothing new! Well you're mostly right, but this new Image White flooring from Brumark combines all of the advantages of their rollable vinyl flooring (durable, easy to install, portable) with the unlimited design potential of printing colors, images and textures. Most importantly, it is being released at a price point that will likely rival that generic carpet provided by the show decorator, and it is a one time cost. It provides the exhibit designer a new black canvas to work with to really make your booth stand out regardless of space size.
Backlighting with Color
Using LED tape or standard LED lighting for aluminum extrusion channels you can now run any color to backlight your display. This gives you the opportunity to attract attendees with lighting and create ambiance or drive the dominant color(s) of the brand. Backlighting has been a key innovation over the last few years and has been cheaper and easier with LED options and products like the RGB LED tape from DS&L.
Custom USB Drives
Giveaways, especially the generic ones (pens, bags, lanyards, etc.), aren't usually something to excite me too much, but I would be remiss if I didn't mention the USB drives that USB Memory Direct is making. They took flash memory, which is a dime-a-dozen offering on the show floor, and made a fun and unique product. They use custom molds to craft full-color 2D and 3D  USB drives in the shapes of their clients' products, logos or in their simplest form a business card. Let's face it, people don't want a bag full of flyers and brochures to lug around after the show so companies are using flash memory and digital options to distribute their information. Make it memorable and eye-catching.
Take a look at some of their awesome product portfolio:
In addition to these products some of the major trends from the last few years seemed to continue. Modular pre-formed aluminum frames have become the new favorite structure for the larger builds in the industry since they offer easy to assemble panels that can support rigid and fabric graphics as well as heavy duty accessories. All of the major build suppliers were highlighting this system. Tension fabric systems still rule the in-line displays. LED monitor panels were popular for incorporating looping video content directly into exhibit systems. Finally, as mentioned above, LED lighting continues to evolve and is being used more frequently and creatively.
The beauty of everything mentioned in this article is that all of it can be purchased through FrontLine Exhibits, so allow us to be your one-stop shop for creative, cutting-edge trade show experiences!