Digital marketing is becoming an increasingly important segment of the marketing mix. Beyond the days of just email, digital is now being used to create one-on-one interactions with brands. Exploding onto the scene first with B2C, it is now commonplace in B2B marketing.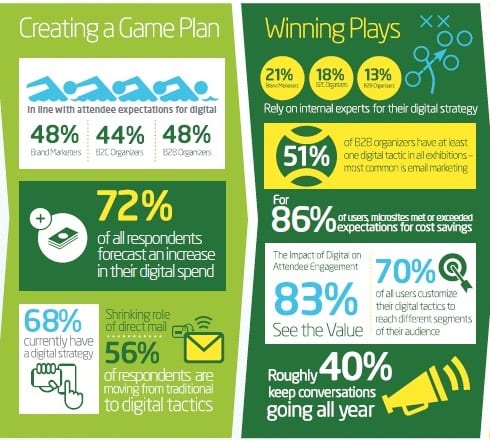 Digital, by its engaging nature, has entered and established its place in trade shows and events as well. Heading into this fall trade show season, this begs two questions: How are you currently utilizing digital with your trade shows? How do you plan to utilize digital in the future?
Here are a few digital tools to incorporate into an upcoming trade show campaign:
Email:
This is the original and most common option. Email is often used prior to events to encourage attendance. It is also used post event to follow up with relevant information.
Social Media:
Social media is used in a number of different ways from crowdsourcing to pre-show promotion. Using Twitter for instance, can be a great tool for discussion and highlights during a show. You can also use it to let people know when a particular in-booth product demo or speaker are starting. LinkedIn can be used to connect with leads, as well as start discussions around current topics.
Live Streaming:
Don't alienate those who cannot attend the event in-person, use live streaming. You can live stream using a multitude of platforms, including Facebook. If you are launching a new product or brand, live stream to allow non-attendees to be a part. Use live streaming to bring broadcast category experts and colleagues into your space.
Lead Retrieval:
Lead retrieval software is becoming more and more advanced. Beyond capturing an attendee's basic information, software now can alert booth personnel of important visitors, send out e-gifts and e-literature, send follow up emails post show and filter all data directly into a crm. The best part… it can all be done from an iPhone or iPad.
 e-literature:
The days of printing, shipping and merchandising hundreds of brochures at every show are over. Emailing pertinent literature to attendees is saving time, money and effort. Attendees appreciate this as well, as no one enjoys lugging countless brochures through a show-hall, onto a plane and back home (realistically, it isn't making it much farther than the next trashcan anyway).
As technology evolves, it adds a variety of ways for exhibitors to offer enhanced attendee experiences pre, during and post show. If you aren't already, start utilizing digital marketing methods to help increase your brand presence at events.
Author: Chase Howells
Your feedback is greatly appreciated on this post. Please contact me using the links below: