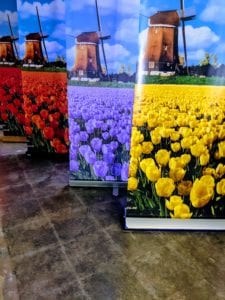 As a vendor in the trade show display and graphics industry our company gets to deal in some large fun custom projects, but the day-to-day is selling the smaller items that almost all companies and organizations use. Things like retractable banner stands, printed table drapes and pop-up displays. For those common items we have a dozen suppliers who offer their version with varying price points and quality levels. We like to get our eyes and hands on these seemingly similar products to sort out what the differences are so that we can provide our client with the best option. Here are some common themes we've seen:
Print Quality
Over the past decade, fabric graphics have become the dominant option for trade show displays because of their light weight and portability. Dye sublimation is the most common process for printing fabric. On the high end you get deep, rich colors and lifelike images. On the lower end you'll see faded, washed out colors and less detail. Sometimes printers will print fabric on a flatbed printer giving you banding and poor coloration.
We advise getting a hard copy proof to make sure you're seeing the print you're getting on the actual material the final is printed on. You will also get a check on key color matches and image quality.
Fabric Quality
The other consideration with fabric graphics is the fabric that is printed on. There are many different materials with different applications. Options to be backlit, to be opaque, to stretch, to allow wind, etc. What you don't like to see is a cheaper fabric being used that doesn't have any hold or rigidity to lessen the impact of wrinkling. Think of a thread count on a bed sheet and how that thickness differs, it is the same way with graphics.
This comes into play often with table drapes and pop-up displays. Some drapes with lesser fabric will look like they've been balled up, and some thicker options can come out of folding without much wrinkling. Additionally, we've seen pop-up display graphics that sag off of their frames, hold wrinkles and can show shadowing and light coming through.
Ask your vendor for samples of the fabric or to see a demo unit of the display you're interested in. It is also always good to have a fabric steamer around for any tough wrinkles!
Hardware
With graphics taking up the majority of both the price and the visual area on most lightweight and portable trade show displays, hardware may seem like the best area to cut corners/cost. We have retractable bannerstands that you can literally drive a truck over and some that seem like they're made from soda cans. Another issue may be how easy or difficult it is to assemble. Just like Ikea may give you 1000 pieces to puzzle together for an end table, you could get that same experience for your display. You also have tool-less versus options that require tools.
Consider how often you'll be setting it up and taking it down, a lesser piece-count and tool-less option is good for frequent use. Same with the quality of the material, if you're shipping it weekly versus setting it up once, you will have different demands.
We have also found that the bar is pretty low for a lifetime warranty, but the manufacturers typically honor them without much trouble. Without a lifetime warranty, you may get a broken unit it right out of the initial shipment (we've seen it), and with one, you'll be covered when the inevitable banner stand tensioning issue occurs or a frame gets bent in shipment.
Extras
There are additional perks that don't seem like they matter much on paper, but in actuality make life much easier. Our premium options will include photos of the booth setup, packing instructions and cases that can have specified areas for parts.
Having setup dozens if not hundreds of displays personally at this point, I can't tell you how much this helps. For the person that is receiving the display at the showsite and trying to get it installed for the first time, this stuff can be life saving. It even saves you hours when using professional labor for assembly/tear down. Pieces and parts go missing less when the case has dedicated spots for each item as well.
Shopping for trade show displays by photos or renderings can be difficult. Much of what is shown online is generated by graphic designers and not able to show the nuances of what is mentioned above. Get physical samples whenever possible to help evaluate quality before the final purchase. We would also highly recommend working with us (or someone similar) to help navigate the available options and their pros and cons. This is why we have our showroom and keep as many samples on site as possible for our clients. Come see some of the differences for yourself!