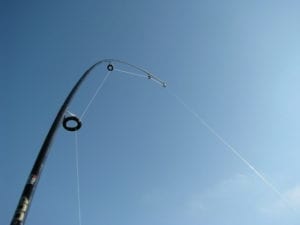 The overarching name for this blog is, "Diary of a Young Marketer" and though the young part may not apply forever (or now depending on who I talk to), I hope the marketer part does. Marketing is a passion of mine. It was my college major, and has always been at the center of my career. Given that, pre-show promotion is a topic I discuss often on this blog and in person with clients. It is the underutilized, but oh-so-important marketing piece to trade shows and events.
There are a couple of reasons that pre-show promotion seems to slip through the cracks. One being the chaos that is preparing to just attend a show. Endless forms, deadlines, booth design, staffing, flights, hotels, meetings and on and on and on. A lot of the marketing effort is put into designing the booth space, the graphics, show specific social and email campaigns, brand-building around the show venue and city. With all of that going on, the burden of developing a pre-show promotion either gets pushed aside or forgotten.
I like the movie Field of Dreams, but "If you build it they will come" is not necessarily the truth in the trade show world, and unless you're manning the 100 x 100 space right through the entrance I wouldn't bank on it being the case. So now you have the booth up and running that demanded all the time and effort to organize with no plan to draw the attendees. You ARE fishing for attendees, but you're sitting on the edge of the pier with a net in hand waiting for the big fish to jump in it. It will be much more effective if you have a rod and reel and cast your bait out into the water and draw the fish to you. The rod and reel is your pre-show promotional plan and the bait is what is waiting for attendee when they arrive.
When developing your pre-show promotion, first consider which method you want to employ. One method is to target as many of the show's attendees as possible. You would use this when the vast majority of attendees fall into your target buying demographic. This helps when you're new to the market, new to the show or have a new product that you want to get buzz about. You need traffic.
Example: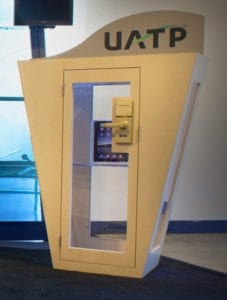 We have a client who added hotel booking as a new service and wanted the attendees to know about it. We designed a unique iPad giveaway promotion where we had a custom kiosk built to hold and showcase the iPad held behind a see through door locked by a hotel door keycard lock. Then custom printed hotel keycards with the company's branding were provided in the registration bag for all attendees. The attendee brings the card to the booth and see if it opens the kiosk and gives them the iPad. If they don't go to the booth, they still go home with a keycard that has the company's brand and is tied to hotels.
The other method to consider is a more targeted approach. Use this type of approach when you know that the three (could be 5-10) companies that if you landed them would make the show successful, or even more, your company. So instead of using your budget on a piece for everyone, you can concentrate more dollars on nicer gifts for the few that matter most and find a way to ensure they will come meet with you in their booth.
Example: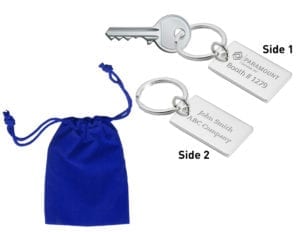 We worked with a client who contracted with high end apartment buildings. To court the few big name attendees they wanted meetings with, we incorporated a small bank of apartment style mailboxes into the booth design. Each slot containing a high end bottle of scotch, and their name/company marked onto the mailbox. In advance of the show, a small box would be delivered to these targeted individuals that included a hand-signed formal invitation to the booth and a key that included an engraved tag with their name.
The object of the promotion of course is to make sure that when someone you are targeting is attending a show where you are exhibiting at, they make a point to stop at your booth. As we have discussed before, this is a decision more than likely made before they hit the show floor. Just showing up will only give you the attendees that have the extra time and are walking by at the right moment, that is leaving too much to chance. You can greatly increase the odds of show success by planning out a creative promotion.