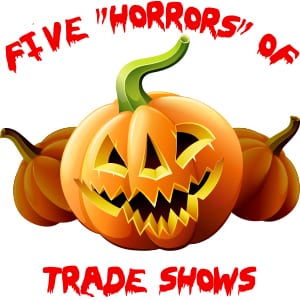 Halloween is here, and we're seeing it in major marketing, scary store decor and pumpkin filled neighborhoods. But none of the monsters, ghosts and goblins of Halloween fiction come close to the fear faced routinely in our industry. Money and time poured into shows and events, jobs and even companies on the line, at times all relying on eighteen wheelers hitting timeslots, laborers coming up with solutions on the floor and hit-or-miss technology. Several years ago I first put forth this blog idea, and now having been seasoned even more I've revised it because that horrible feeling of fear and anxiety is not only felt at the end of October for us.
Here are five common "horrors" and how to avoid them:
1. Technology
We live in a world of rapidly advancing technology. Many companies we work with position themselves as trendy and cutting edge and want to incorporate the latest technology. Phones, tablets, and TVs are all capable of doing more than we could ever imagine. But technology can turn on us on a dime, especially on the show floor. The Internet can be spotty or non-existent, electrical can get faulty, and that interactive touch display can fall right off of its custom kiosk.
Some things are tough to avoid, some impossible really in this category, but know that and always have a backup plan. If it requires the internet, have an offline-backup, have your custom software loaded on more than one device, do dry runs with your devices/equipment before the show. Honestly, if the technology you're using cannot have a reasonable backup option, don't use that option. The real law on the show floor is Murphy's Law.
2. Customs/Freight
We work in a global economy. Many companies are seeking new business outside of the states. A great way to get involved in international markets is by exhibiting in them. At some point boxes, crates or pallets from your company are going to have to clear customs. In some countries, this can truly be a roll of the dice, and I know some clients have lost their property permanently.
Clear this hurdle by being proactive. Talk to different freight companies and use one that is familiar with and has personnel in the destination country. To make it easy for our clients we can research and sort out the right freight companies, and can also refer you to one of our partners whose expertise is in global exhibiting.
Freight isn't just scary when crossing international borders. Many times a simple one-day shipment can become damaging to your booth property. Does anyone else feel like trade show freight has a forklift bullseye?
Our advice here is to use proper casing and crating, always insure your shipment (and avoid carriers who will not insure) and find a trusted carrier, not just the cheapest out there. One particular carrier comes to mind that always delivers damaged packages, is terrible to deal with for claims, but imagine that they are the cheapest option!
3. Graphics
Far too often the design of artwork for trade show display graphics is rushed and completed last minute. This can cause a slew of issues including; copy errors and misspellings, poor graphic fit or tensioning, sloppy looking low-resolution photos and incorrect colors.
This is what attendees see first. Take the time to properly design, review, proof, and test fit the graphics. Erase graphic issues from the list of potential worries long before the show begins.
4. Booth Properties
Your company just spent [redacted: I don't want to raise any blood pressure] on a great new exhibit, and now you must entrust it to the labor crew at the show. These days, tools beyond basic allen keys are not normally used for exhibits. So the sound of a drill on the show floor is exponentially scarier than the one at the dentist.
Train someone (or yourself) to know the booth well enough to supervise on the floor. Best case, you've set it up on your own before, but at least have instructions and go through them with your exhibit builder ahead of time. Being able to call the shots during install will save time and money as the crew will work more efficiently and effectively.
Another issue we see is that many clients have booth properties shipping in and out of the warehouse and all around to shows, a lot of times without opening their crates and boxes. This prompts panicked phone calls from the show floor asking how quickly we can get them whatever missing or broken piece(s) are needed to install their display.
Set up your display after you get it back from a show, and again before it goes back out to verify that all parts are accounted for and are in good working order. This can be painful and time-consuming but will alleviate issues at the show. We also provide this service to those letting us manage their storage and freight (shameless plug).
5. Staff
Your display is up, booth looks great and the attendees are pouring down the aisles, but you look over and see Joe standing with his cell phone to ear, muffin in the right hand and coffee spilling out of the left, and realize what was overlooked.
The team you have staffing your booth will make or break the experience for the attendee. I've been ignored at shows numerous times by booth personnel who are busy doing everything other than working the booth. Train your team on basic booth etiquette and conduct pre-show meetings both at the office and on-site to go over the goals and objectives. Get your team engaged, so that they will engage others.
In my position, I try to help my clients prepare to the best of my ability. In the end, with so many variables, there are still always some sleepless nights and unavoidable nightmares, but it all ends up getting worked out. Do your best to think of all the potential issues that may arise, and if you're inexperienced in this field consult those who have the experience. Otherwise, Halloween may become the least scary time of your year.