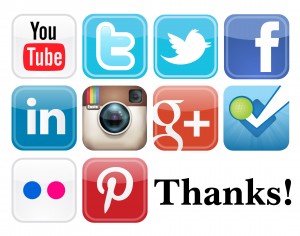 Getting this close to the Thanksgiving holiday, many people discuss what it is they're thankful for; like good health, family and being able to put food on the table. This lead me to question, what are marketers thankful for right now? Could the answer be social media?
Here are 4 reasons for marketers to be thankful for social media:
1. Content Delivery
It is no secret right now that content is king. Companies are differentiating themselves and building trust through creating unique content such as articles, white papers, blogs etc. Instead of hiding it on one section of the company website, it can reach mass distribution via social media channels. The attention it garners on social media can often provide better feedback and analytics than pageviews with likes, shares and comments. It also enhances the process of a couple of the best marketing tools, word of mouth and referrals.
2. Access
Mobile, as in access via tablets and smartphones, is huge as so many people stay "on the go" out of the office, and away from a desktop computer. Social media companies know this, and have already optimized specific apps that work well on almost all devices. If you're pushing content through social media, then it is placed on the feed and easily accessible, anytime, anywhere.
3. Options
Social media was Facebook. Now it is Facebook, Twitter, LinkedIn, YouTube, Instagram, Google+, Pinterest, Vine and so on. What is right for your brand? Well it depends on your content and goals, but probably a mix. For instance, I've noticed that B2B companies like to push articles, blogs and white papers through LinkedIn, while they'll use Facebook for posting photos from trade shows and community events. LinkedIn being the "professional" social media site, would be appropriate for written content. Facebook being more fun and laid back, is a better place to humanize your company.
4. Cost
Though marketing budgets are coming back, we all know they're never big enough. Many in marketing now are hardened warriors after facing the budget slashing several years ago. That being said, it is all about value. Social media's primary cost is time. If you don't have time, then of course, you can purchase someone else's time to manage your social media, but this still will end up being a cheaper, if not the cheapest, portion of your marketing mix.
Over the past couple of years as social media has hit the business scene, we've wondered will this work? Is any of this here to stay? Now I think we know how to best use the different social media channels. Think of the good it has done; real-time consumer interaction on Twitter, brand humanization on Facebook, even just putting a face to a name via LinkedIn is taken for granted now. I use social media regularly to help further understand my clients' marketing, as well as understand prospects'. I am also in part responsible for controlling our company's appearance online, so I understand the commitment required. We certainly can now say that social media is here to stay for business and has become an important addition to the marketing toolbox. I would even say from a marketing perspective that I am thankful for it. Would you?
Author: Chase Howells
Your feedback is greatly appreciated on this post. Please contact me using the links below: