Happy New Year and welcome to the other side of Snowmaggedon 2016!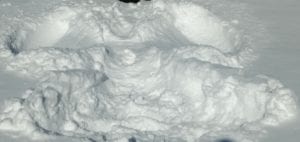 As I'm writing this, I am stuck at home for the fourth straight day. Many of you probably spent the weekend in a similar fashion. Fortunately, technology has allowed me to at least make Friday and Monday productive.
I am not someone that works from home often, I am typically in the office or on the road, but I know that telecommuting is a growing trend. In fact, there are projections showing that within 5 years almost a third of the workforce will be telecommuting. Figure this in with the virtual trade shows and events trying to capitalize on this that happen totally online and try to recreate the face to face feel. Is this going to hurt face-to-face marketing? Honestly, I feel it does the opposite.
After spending four straight days at home, I need to get out and see other people. My wife feels the same way, and conversations with clients are telling me this as well. We all enjoy the fact (sometimes) that technology enables us to be accessible real time anywhere on the planet, even if that is sometimes blocked into your home office by a wall of snow, or a few days a week at home to not fight the daily commute. But a couple of things really draw us out; teamwork and sales. A lot of times we're working on a task as part of a team, and in person collaboration is much smoother. When it comes to sales, especially B2B, you want to meet the person face to face because it helps to establish that necessary level of trust.
Trade shows and events work with both of those areas. A lot of times you're bringing in remote employees from the field as well as corporate office personnel and companies can utilize this time for team-building and bonding. Off-the-clock happy hours, meals and unique local experiences. From the sales perspective, both the buyer and seller have a chance to meet face to face and build a better rapport in and sometimes outside the trade show/event. Many of my closest client relationships are with those who I've broken bread with in a city we don't call home. At the same time, my weakest relationships are those who make a quick purchase that I don't have a chance to ever see in person.
Being cooped up even just for a few days made me feel disconnected. I looked forward to getting back around people again. The same way being in the office day-to-day gets me to look forward to getting out and about with clients. Setting aside the stresses of exhibiting and setting up events, I get to hear excitement from clients about traveling to different places and what is on the itinerary for them. This leads me to believe people don't want to operate entirely remotely. Not 100% of the time. There is no technology that can replace a handshake and a smile. So, let's dig out and connect!